Journey Into Design | Book Preview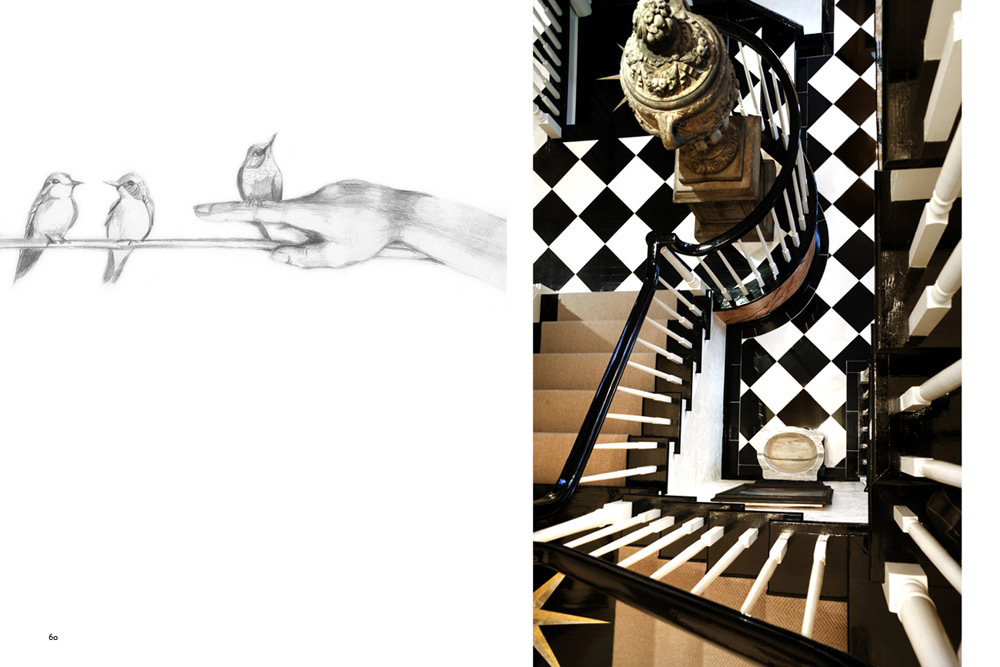 Stair & Hallway
The crisp contrast of the harlequin checkered halls, punctuated by jeweled landings carries the viewer to the living room. The entrance was enhanced with an oversized antique urn accentuating the twelve foot ceilings. In the living room, a gorgeous 18th century Waterford chandelier crowns the ceiling.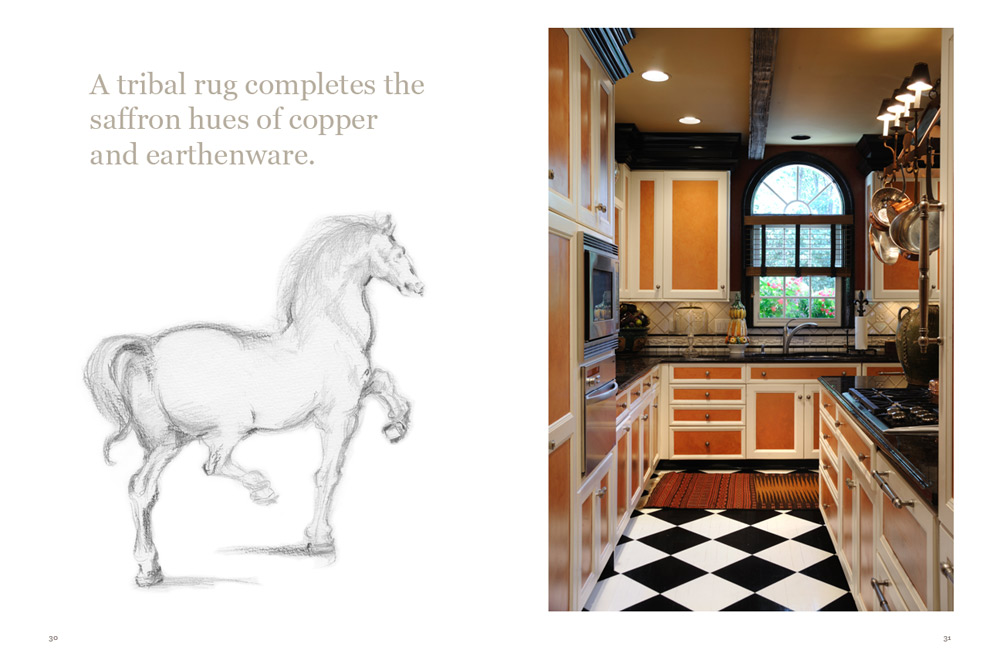 Gallery Kitchen
The galley kitchen unites a corridor of copper-glazed cabinets and hand painted oak floors enhanced by longitudinal seams of exposed wood. The ceiling is highlighted with hand hewn, reclaimed barn beams suggesting a monastery in Cinque Terra. The color of the beams anchor the vivid walls, defining the stately architecture of the ceilings. An assortment of vintage gourmet cookware conveys an old-world charm directing ones' senses to aromas of delightful, home baked, goods.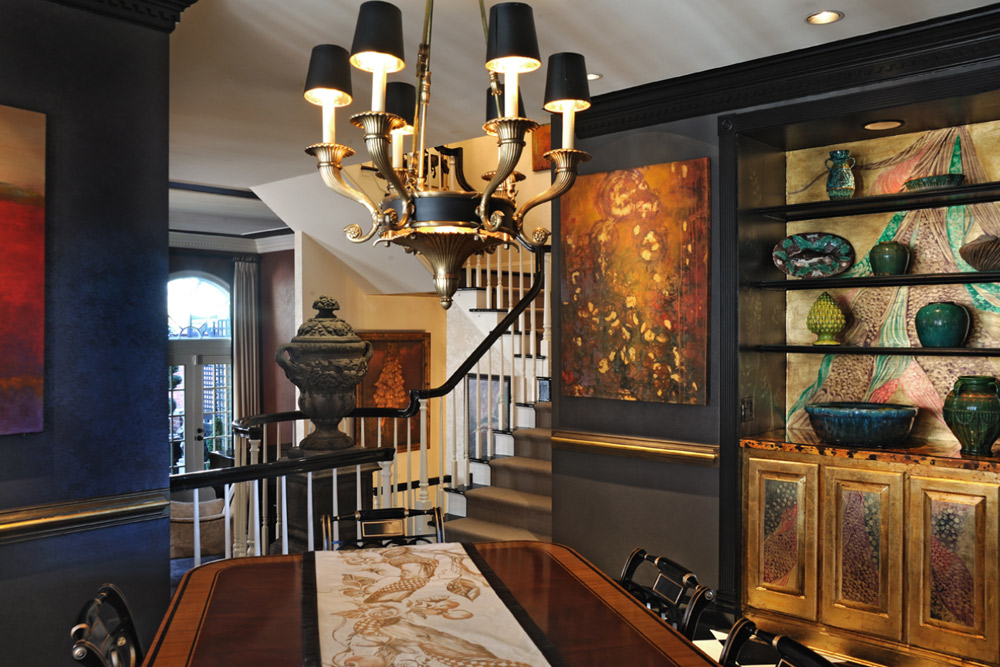 Dining Room
The dining room welcomes the visitor with deep umber walls capped with crown molding in matte and high gloss ebony lacquer. Gold leaf sways here, accenting the wainscoted molding and sheathing a built-in cabinet. An exotic background in teal, fuchsia and bronze tones complement the collection of antique porcelains. The doors salute Byzantine elegance and balance the architectural severity of the painted walls. Exotic serpents are presented on a leather-bound linen table runner, painted to complete the vision. A large color blocked painting creates contemporary tension with the period pieces, while a handsome 18th century chandelier is encircled with painted Renaissance fruits and foliage, wrapping the room in gold, creating an exciting and mysterious jewel-like room.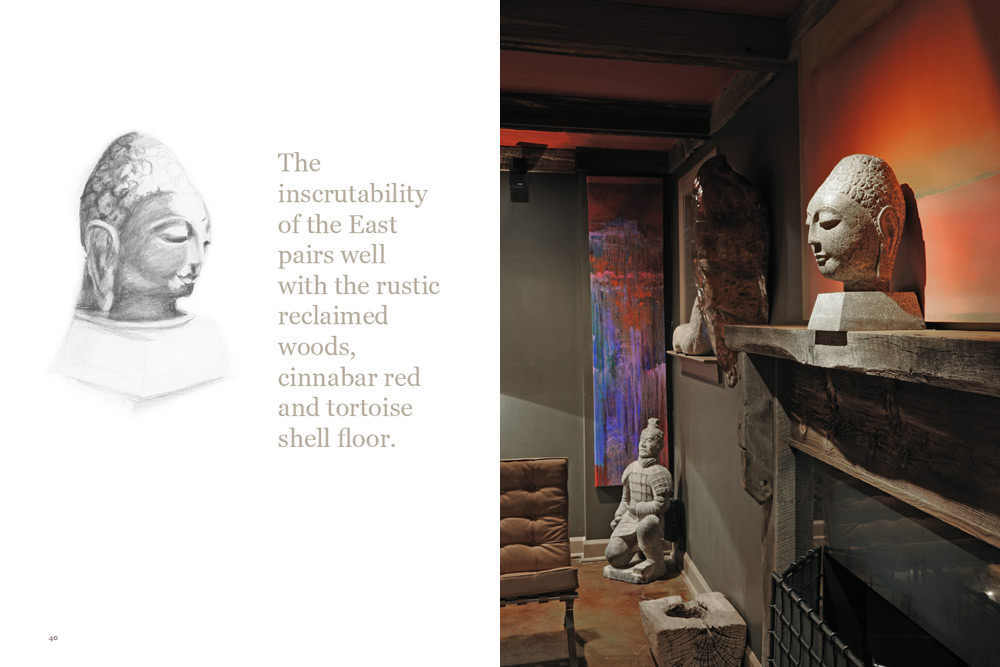 Fireplace
This photo captures the Zen-like atmosphere amidst the brilliant hues of surrounding paintings. The fireplace mantle is a reclaimed wood creation with corbels and joinery from parts of an old barn. The rustic, soft grays of the wood pair well with the ashen hues of the Buddha head and a Rothcoesque painting in the background. While its location in the room commands attention, the overall effect is one of tranquility and calmness.

Journey Into Design available on Amazon.
Hardcover – 2015 – 95 pages
$40.00

Like us on Facebook:

Read our reviews and our tips on creative intimate home designing.